Mount Kilimanjaro Climb Marangu Route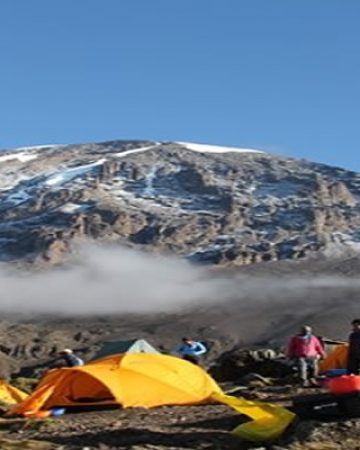 Mount Kilimanjaro Climb Marangu Route
Mount Kilimanjaro Climb Marangu Route Trek.
Total hiking distance: About 96 kms (Excluding any acclimatization hike).
Kilimanjaro Climb Marangu Route. Affectionately known as the "Coca-Cola route", Marangu route is by far the most popular route to the summit of Kilimanjaro. This could partly be as a result of the fact that the Marangu is the least expensive route, but more so, perhaps the fact that it is possible to do the Marangu route in 5 days, thereby getting to the summit one day earlier than on the Machame route. This is not always the best way due to a shorter acclimatization period. The Marangu route does however offer you the option of spending an extra acclimatization day on the mountain. This extends the route to a 6-day march, greatly increasing your chances of success. Hut accommodation on the Marangu route forms one of the main differences, compared to the other routes. It offers you the relative luxury of being able to sleep in huts along the entire route. Mineral water, soft drinks, chocolates and beers are also sold at all the camps on this route. All your equipment and supplies are portered and a cook prepares all your meals.
For the 5-day route, simply exclude the additional acclimatization day at Horombo hut – day 3 on the itinerary below.
Climbing Mount Kilimanjaro on the Marangu Route
The oldest route on Mount Kilimanjaro, the Marangu route, is also known as the "Tourist Route" or "Coca Cola Route."
And you may have heard that "of all routes up Mt. Kilimanjaro, the Marangu route is the easiest, cheapest and by far the most popular."
Only one of the statements is true: climbing Kilimanjaro on the Marangu route is the cheapest option.
The Marangu route is not the most popular route anymore. It has been surpassed by the Machame Route.
And I disagree with the statement that the Marangu Route is the easiest because it is misleading. It may be the easiest trip to organize, have the widest, most comfortable path to walk on and offer hut accommodation, but that does NOT make it easier to reach the summit.
Marangu Route Itinerary
(Note: altitudes and distances are approximations. Different sources will give you different numbers.)
Starting Point: Marangu Gate (1860 m/6100 ft)
Duration: 5 days (acclimatization day can be added at Horombo)
Day 1 – Marangu Gate (1860 m/6100 ft) – Mandara Huts (2700m/8860 ft)
Walking distance: 8 km/5 miles
Walking time: 3-4 hours
Altitude gain: 840 m/2760 ft
Day 2 – Mandara Huts – Horombo Huts (3700 m/12140 ft)
Walking distance: 12 km/7.2 miles
Walking time: 5-7 hours
Altitude gain: 1000 m/3280 ft
Day 3 – Horombo Huts – Kibo Huts (4700 m/15420 ft)
Walking distance: 9.5 km/5.7 miles
Walking time: 5-7 hours
Altitude gain: 1000 m/3280 ft
Day 4 – Summit attempt via Gilman's Point (5700 m/18700 ft) to Uhuru Peak (5895 m/19340 ft) and descent to Horombo Huts (3700 m/12200 ft)
Walking distance: 5.5 km/3.5 miles ascent + 15 km/9.5 miles descent
Walking time: 5-6 hrs + 1-2 hours up, 5-6 hours down (the overall walking time may vary from 10 – 16 hours)
Altitude gain: 1000 m/ 3280 ft (Gilman's Point) or 1195 m/3920 ft (Uhuru Peak)
Descent: 2195 m/7200 ft
Day 5 – Horombo Huts – Marangu Gate
Walking distance: 20 km/12.5 miles
Walking time: 5 hours
Descent: 1840 m/6040 ft
Mount Kilimanjaro Climb Marangu Route