MountKenya Climb SirimonChogoria Route
The Chogoria route is our recommended African Climbing Tour and arguably the most magnificent ascent route to the summit area of Mount Kenya. It is the driest route up the mountain and the walk beside the is truly spectacular.
The descent by the Sirimon route takes one through some beautiful forest tracks and completes the traverse of the mountain.
Accommodation on this hike is 1 night in mountain huts and 3 nights camping. Nonetheless, if you prefer to camp you can do so all night on the mountain.
Highlights:
Combining two of the most scenic routes on Mount Kenya
Spectacular views of the mountain through the Gorges valley
Varied mountain vegetation from Rainforest, Bamboo, Moorland and Giant Lobelia
The chance to acclimatize at 3,300m
5 Days Mount Kenya Climbing Sirimon – Chogoria route trekking

Hiking summary & schedule: Distance: 80 km | Difficulty: Moderate | Start/Finish: Nairobi   5 days Sirimon – Chogoria route itinerary and price:
Day 1: Nairobi/Sirimon/Judmaier Camp (Old Moses Camp), 3-4 hrs, 9km, 860m ascent
Leave Nairobi at 7.30am to Nanyuki town for lunch, taking about 4 hours. Proceed to Sirimon Gate (Sirimon Park Gate), 1 hr, 2440m. From the gate follow the track as it winds uphill though the forest which becomes heath land after about 3 hrs. About 3½ hours from the gate the track veers right to Judmier Camp, 3300m for dinner and overnight, L, D
Day 2: Judmier Camp/Shipton Camp, 6-7hrs, 17km, 900m ascent
After breakfast, follow the track uphill, forking left at the junction. Following one hour trekking from Old Moses Camp, the track crosses Ontulili River. Go right contouring through the Moorland and crossing Liki North. Continue uphill to Mackinders Valley from where there are panoramic views up the valley towards the main peaks (Nelion, Batian and Lenana). Dinner and overnight at Shipton Camp, 4200m, B,L,D
Day 3: Shipton Camp – acclimatization day
Spend the day acclimatizing with guided hikes. You will spend the day trekking to Kami Hut and down to Hauseberg Lakes (Hauseberg Tarn and Nanyuki Tarn). Walk back to Shipton for an early dinner and overnight in readiness for the next day's summit attempt, B,L,D.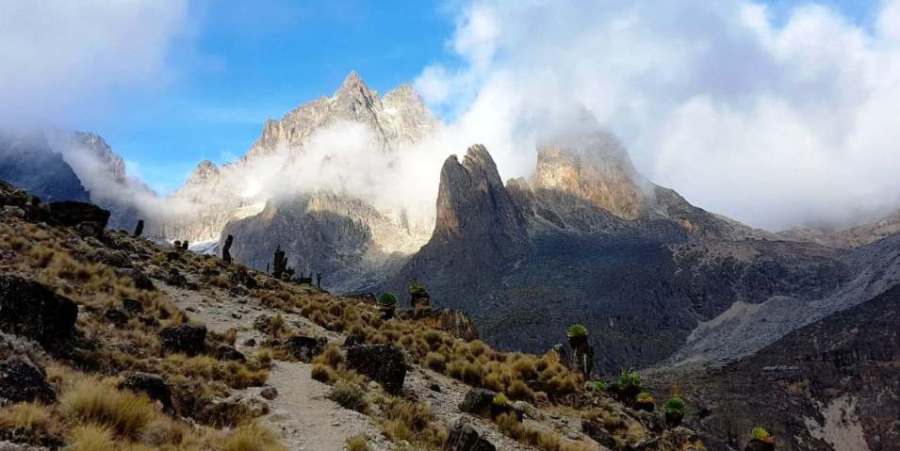 Day 4: Shiptons/Point Lenana/Mount Meru Bandas (Chogoria Gate), 11-12hrs, 32km, 785m ascent
You are awake early in the morning for some. We now leave the camp at 3am up a steep stony quarry that cuts through a cliff clearing visible part towards lower Hall Tarns. The journey lasts about 3 hours arriving Mount Kenya Point Lenana (6km from Shipton Camp) at 6:30am. Trekking to Lenana Peak at 4985m taking about 3hrs or so. Enjoy photographic session and sightseeing from the summit. After the African sunrise, descend down to Mintos hut (6km), 2hrs, for breakfast. Proceed with the adventure hiking for 20km, 4-5hrs further down to Mount Meru Bandas, 2950m (Mt Kenya Bandas). Dinner and overnight at Mount Kenya Bandas, B,L,D
Day 5: Chogoria Bandas/Chogoria/Nairobi, 2hrs, 15km
After enjoying your last breakfast, you will walk down by trekking for 2hrs, 15km to forest clearance. The remaining part distance of approximately 16km is by 4x4WD vehicle. Catch a 4×4 transfer vehicle to Chogoria Village where you will connect with your transfer vehicle back to Nairobi, B,L.
The following items are included in prices:
Return transfers from Nairobi to Mt Kenya (private)
All Park fees.
All food while on the Mountain.
Accommodation in mountain huts/ camping where applicable.
All guiding services
Porter support for the climb.
Not included are:
Personal clothing and equipment
Tips and gratuities for guides and porter (recommended to be 10 – 15% of climb costs)
Beverages while not on the mountain
MountKenya Climb SirimonChogoria Route