Mount Kenya and Kilimanjaro Trek
Mount Kenya and Kilimanjaro Trek
Highlights
Enjoy a 14-day climbing trip to the top of Mount Kenya and Kilimanjaro.
Spend your nights in various camps on both peaks.
Marvel at the amazing views from both peaks' summits.
Description
When it comes to climbing Kilimanjaro (5,895m), the challenge isn't technical, but physical. The challenge that comes with the iconic mountain in Tanzania, and highest peak in all of Africa, comes from having the endurance to make it to the top.
And, one of the biggest factors that comes with scaling the peak is proper acclimatization. That is why we are happy to offer this 14-day expedition that will not only take you to the summit of Kilimanjaro but will initially take you to the third highest peak of Mount Kenya- the Lenana Peak.
The Mount Kilimanjaro and Mount Kenya Trekking Itinerary:
Day 1: Nairobi – Nanyuki – Old Moses
You have the morning pick up in Nairobi and take the 4 hours drive to Nanyuki Town and link up with your Trekking crew. Procced to the Sirimon Gate and commence your trekking expedition with your packed lunches.
Take the 3 hours of trekking to reach the Old Moses Camp. Dinner and overnight in the Camp. Half board
Day 2: Old Moses – Shipton Camp
Breakfast at the Camp. Ascend to the Likii North Valley, in this beautiful little valley below the subsidiary peaks of Teleki and Sendeyo, two ancient parasitic vents of the main peaks (3990m).
Climb out of the North Valley and into the Mackinders Valley one of the broadest valleys on the Mountain, with many giant groundsels with good views of the main peaks and a brief stopover for picnic lunch along the valley on top of the cliff. After lunch we will have like 3 hours to ascend to Shipton Camp just below the main peak of Batian and Nelion this normally takes 7-8hrs to get to the Shipton Camp. Dinner and overnight in Shipton Camp (4200m). Full board
Day 3: Shipton Camp – Austrian Hut
Breakfast. Ascend uphill to Simba col which is about 4610m, then proceed on a gradual trail along samba tarn to join the trail that joins to Mintos Hut from Austrian Hut. Proceed on to the Austrian Camp on time for lunch having done half circuit of the summit clockwise. The hike takes 3-4 hours. Rest of the afternoon spent in the camp relaxing as we await hitting the summit the following morning. Dinner and overnight in Austrian Hut
Day 4: Austrian Hut – Lenana – Chogoria Bandas
0300 hours. Wake up and have of Coffee, tea and biscuits will also be served but keep it right to avoid constipation due to slow digestion, then we start the Alpine ascent to the third highest peak of Mount Kenya; namely Point. Lenana (4985m). Take one hour to reach Pt. Lenana 4985m (the hikers summit) in time to watch the sunrise.
After your photography and viewing opportunity, surrounded by glaciers and ice rock caves, descend leisurely to Mintos hut, 2hrs, for hot breakfast. There after descend further down for about 2-3 hours to Road head for picnic lunch. At this point your body will be gaining strength as you are now going down from high altitude to normal and your mind will be calm though might be tired for the long day walk. In the next 2 hours you arrive in Chogoria Bandas where the memories of Mt. Kenya become real, you will be received by our crews who always walk ahead, and you will have hot African Tea or Coffee with dinner and overnight at the Mount Kenya Bandas Tent. Full board
Day 5: Mt Kenya Bandas – Chogoria Gate – Nairobi
Breakfast. You will then walk down through the forest to meet your driver who will drive you down the rest of the track and on to Chogoria town and you take the drive to Nairobi.
You arrive in the afternoon with overnight at Ibis Styles Hotels, Westlands, Nairobi. Room, breakfast and lunch
Day 6: Nairobi – Arusha – Moshi
Breakfast at Ibis Styles Hotels, Westlands, Nairobi. You are picked up to the Shuttle Bus bound for Moshi Town in Tanzania. Pick you from your Hotel, Guest House or Residential house at about 0630am then proceed to the departure point in the city center where we board the Tourist designed shuttle bus and head to Tanzania. You arrive Moshi on late afternoon and check in at the Dual Mountain Lodge, Moshi. Overnight at the Lodge. Room, bed and breakfast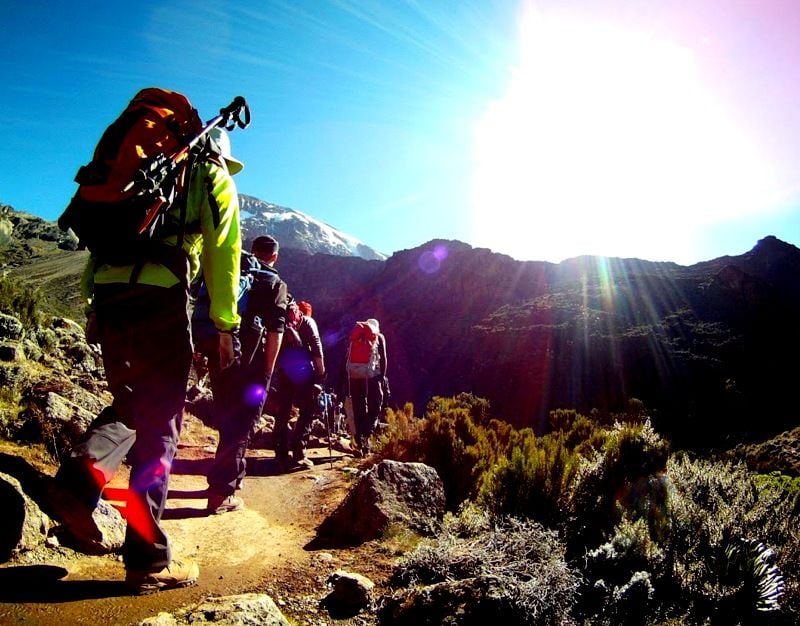 Mount Kenya and Kilimanjaro Trek
Day 7: Moshi – Machame Gate to Machame Camp
After the breakfast drive to Machame Park Gate. On arrival you go through the registration with the park authority. Mount Kilimanjaro is a World Heritage Site. Commence the Trek for about 6 hrs, gradually ascending through the cloud forests of Kilimanjaro and onto giant heather forested hills at Machame Camp (2850 m). Full board
Day 8: Machame Hut to Shira Camp
Wake up at 07:00am have the breakfast, then trekkers ascend an enjoyable ridge, lunch will be served in one of the lunch point which is about halfway to Shira Camp, after lunch traverse along a stream gorge and finally emerge on the Shira plateau volcanic moorland (3840m). Total trekking time for this day is approximately 6 hrs. Dinner and overnight in Shira Camp. Full board
Day 9: Shira Camp to Barranco Camp
You follow the trail to Lava Towers, have lunch prior to spending an hour at Lava Towers, and then descend into the scenic Barranco gorge. Continue to Barranco Camp at 3950m. Total trekking time is approximately 6 hrs. Overnight at Barranco Camp. Full board
Day 10: Barranco Camp to Karanga Camp
Cross the Barranco Valley, ascend the fascinating Barranco wall, then follow the Kibo South Circuit. Descend and ascend again for about 2 additional hours to arrive at Karanga Camp (4000 m) for lunch and overnight. Total trekking time is approximately 5 hrs. Full board
Day 11: Karanga Camp to Barafu Camp
Another half day trek takes you across some splendid volcanic lands, with Kibo Volcano (highest of the Kilimanjaro volcanoes) and its remaining glaciers as the backdrop. Enjoy the final ascent to Barafu Camp (4673 m). Total trekking time between camps is approximately 5 hrs. After lunch and a couple of hours of rest, you begin a short trek up to Kibo Camp for further acclimatization, and then descend for dinner. Sleep until 11:00 p.m. and then begin all night ascent. The summit is attainable since you should be properly acclimatized by now. Overnight at Barafu Camp. Full board
Day 12: Barafu Camp to Uhuru Peak to Lower Mweka Camp
Trek to the north-west, with mountain guides at your, up a defined trail toward Stella Point on the crater rim. Summit day is scheduled to coincide with a waxing moon, which will be nearly full. This 6-hour trek to Stella Point (5756 m) is the most mentally and physically challenging on the day.
Temperature is usually -10° Celsius, and winds can make it even more challenging. At Stella Point, the group re-nourishes, enjoys the famous Kilimanjaro sunrise, and then continues for another hour to the true summit of Africa, Uhuru Peak. Photos and celebrations ensue.
A slow descent back to Stella Point, followed by a quicker descent on scree slope trails back to Barafu Camp for a well-deserved rest and brunch. Break camp and hike down to Mweka Camp by mid-afternoon. Overnight at the Mweka Camp. Full board
Day 13: Mweka Camp to Moshi with overnight
Breakfast. Take the 3-hour descent to Mweka Gate. Check out at Mweka trail head and are transferred to the Dual Mountain Lodge for overnight. Half board
Day 14: Transfer to the Airport and Depart
Breakfast at the Dual Moutain Lodge. In good time you are transferred to the Airport to catch your ongoing flight. Breakfast
Included:
– The mentioned arrival and departure transfers in Nairobi and Moshi.
– Return transfers Nairobi/ Mount Kenya/Nairobi.
– Park fees and camping fees for Mount Kilimanjaro and Mount Kenya.
– Full board (includes accommodation, breakfast, lunch and dinner) during the Treks.
– Services of Mount Kenya and Mount Kilimanjaro Trekking Guides.
– Cooks for Mount Kenya and Mount Kilimanjaro.
– Services of Porters.
– Treated drinking water during the Treks.
– Overnight at Ibis Styles Hotels, Nairobi on Day 5 on bed and breakfast basis.
– Shuttle Bus Transfer Nairobi to Moshi on Day 6.
– The mentioned packed lunches.
– Two nights accommodation at Dual Mountain Lodge, Moshi on bed and breakfast basis.
Excluded:
– Mount Kenya and Kilimanjaro Trekking Equipment.
– Tips for the Trekking Crews.
– Kenya and Tanzania Tourist Visas.
Mount Kenya and Kilimanjaro Trek